Free VPN & Proxy by Seed4.Me on MacOS Mac
version 1.0.9 |

mac

---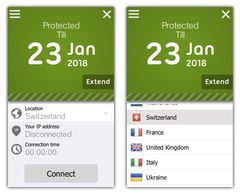 Name:
Free VPN & Proxy by Seed4.Me on MacOS
Version:
1.0.9
Size:
30.03 MB
Category:
Internet Tools
License:
Free
Released:
2017-03-22
Developer:
Seed4.me Vpn
Downloads:
1180
Description
Seed4.Me provides a safe and trustworthy connection by configuring an encrypted and secure channel between your PC and the target website using Virtual Private Network (VPN) technology.
Check out our privacy policy and terms of use:
https://seed4.me/pages/terms
Unfortunately we could not keep this VPN proxy free forever, as we have to pay for high-speed servers to keep your data secure.
- More Free VPN Access
- Trusted Networks Support
- No Ads, No Limits & super fast connection
- Use single account on All devices & computer
- 17 different locations, including Switzerland, Sweden, United Stets, United Kingdom, Netherlands, Russia, Deutschland, Singapore, Hong Kong, Spain, France, Ukraine, Italy, Canada, Israel, South Korea, Indian.