Spotflux Mac
version 2.9.10 |

mac

---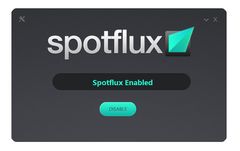 Name:
Spotflux
Version:
2.9.10
Size:
9.87 MB
Category:
Internet Tools
License:
Free
Released:
2015-02-26
Developer:
Spotflux
Downloads:
240
Description
Spotflux is devoted to protecting your digital privacy and security anywhere and on any device. Our tiny, but powerful application not only encrypts your internet traffic, it also performs millions of cloud-based, real-time calculations to remove tracking cookies and viruses without slowing your device.
Spotflux harnesses the power of the cloud to conduct millions of real-time checks for invasive tracking, advertisements, malware, and other bugs that pose a threat to your identity or your data.
Our Technology is complex and ever-evolving. While we work to improve our technology, we encourage our users to enjoy our services free of charge.
Here's how spotflux lets you take control of the internet:
- Encrypted and Secure Connection: Whether at home, traveling, or on a public WiFi, spotflux encrypts and secures your connection and protects your privacy while browsing.
- Malware and Virus Protection: Spotflux continuously scans and protects your connection for inbound threats such as malware and viruses.
- Open and Unrestricted Access: Spotflux doesn't believe in limiting or blocking access to content. Access is always open and unrestricted while connected to spotflux.
- Private, Ad-free Browsing Experience: Enjoy clean ad-free browsing without tracking or targeted advertisements. Spotflux saves bandwidth, hides your IP address, and keeps your location private.
Screenshots