Blender Mac
version 2.75 |

mac

---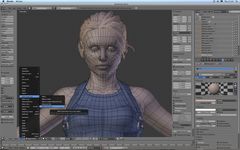 Name:
Blender
Version:
2.75
Size:
128.34 MB
Category:
Graphics Tools
License:
Free
Released:
2016-03-22
Developer:
Blender Foundation
Downloads:
849
Description
-Revolutionary non-overlapping and non-blocking UI delivers unsurpassed workflow.
-Flexible and fully configurable window layout with as many screen setups as you prefer.
-Undo support on all levels.
-Powerful built-in database system allowing instances, scene management, and dynamic linking multiple project files.
-Anti-aliased fonts with international translation support.
-Windows for animation curves/keys, outliner, schematic scene diagram, non-linear video sequence editing, character animation action editor, non-linear animation mixer, image/UV editing, file/image selection and file management.
-Built-in text editor for annotations and editing Python scripts.
-Consistent interface across all platforms.