SlimBoat Web Browser for Windows
version 1.1.54 |

windows

---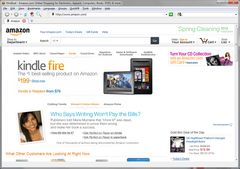 Name:
SlimBoat Web Browser for Windows
Version:
1.1.54
Size:
12.34 MB
Category:
Web browsers
License:
Free
Released:
2015-02-10
Developer:
Flashpeak, Inc
Downloads:
999
Description
SlimBoat is a fast, secure and powerful web browser that is designed to save time and maximize online productivity. It is fast to start up and open your favorite web sites instantly. SlimBoat helps you surf the internet safely and securely by incorporating multiple layers of protection measures. SlimBoat also includes tons of powerful functions and flexible options so that you can reach your favorite online destination in the most convenient way while avoiding unnecessary distractions and annoyances. A brief summary of important features supported by SlimBoat is listed below:
1. QuickFill form filler
Completes web form for you automatically and gives you one-click access to your favorite online accounts.
2. Facebook Integration
Share a page, a picture or a piece of text on any page on facebook with a single click.
3. Download Manager
The download manager makes it easy to track and organize your download jobs.
4. Online Video Downloader
Download online streaming videos to mp4 or other video formats.
5. Ad Blocker
Eliminates obtrusive advertisements from web pages. Save memory and bandwidth!
6. Weather Forecast Information
Display current weather condition in the status bar of the web browser so that you know what is going on outside all the time.
7. Site group
The site group feature lets you save a collection of web sites as a group and open all of them at once with a single click.
8. Popup Blocker
The popup blocker kills all annoying popup ads before it has chance to disturb you.
9. Web page translation
The select-and-translate feature allows you to translate any text within a web page without leaving the page.
SlimBoat is based on the lightweight high-performance webkit rendering engine and available across different platforms such as Windows, Mac and Linux. Download SlimBoat now and experience for yourself the speed and convenience of surfing Internet with it.
Screenshots