DayDiff
version 0.3.0 |

windows

---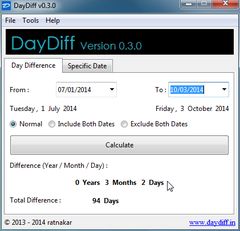 Name:
DayDiff
Version:
0.3.0
Size:
1.3 MB
Category:
Calendars & Planners
License:
Free
Released:
2014-10-23
Developer:
Nalin Ratnakar
Downloads:
1058
Description
DayDiff is a small application created with an unique purpose, namely to provide you with a handy date calculator that can be used for determining the difference between two given dates in the calendar or finding a specific date. Adopting a straightforward approach, DayDiff features a user friendly interface. All the options are readily available and viewing the result is just a matter of a few clicks.
DayDiff can come in handy for finding out the time interval between two important events or between the present and a future time or finding a specific day and date by specifying the year, month, day interval. Its main goal is to save you the trouble of determining this difference manually, which involves rather tedious mathematical operations with different number of days for each month.
Program Cost: Free
License Type: GPL
Supported OS: Windows All
Latest Version - 0.3.0
To my daughter - Shayna Romona
[Version History]
DayDiff v0.3.0
--------------
-Released 3 Oct 2014.
-Added language/localization support for French, Spanish, Portuguese, Russian, German, Italian, Chinese, Romanian and Dutch.
-Added option to calculate day difference inclusive or exclusive of start and end dates.
-GUI enhanced and made more user friendly.
-Code optimization.
-Minor bug fixes.
DayDiff v0.2.1
--------------
-Released 15 Feb 2014.
-Minor bug fixes.
-Code optimization.
DayDiff v0.2
------------
-Released 11 Feb 2014.
-Some minor bug fixes.
-GUI revamped.
-Code optimization.
-Added new option to calculate a specific date and day from any given
date by adding/subtracting given number of years, months or days.
DayDiff v0.1
------------
-Released 27 Nov 2013.
-Option to calculate the difference in days between two given dates.
The result is shown in days as well as in years, month and days.
Copyright © 2013 - 2014 ratnakar
Author : nalin ratnakar
E -mail :
[email protected]
Website : www.daydiff.in
Screenshots