!myPlan Freeware
version 1.11 |

windows

---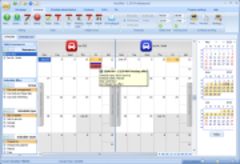 Name:
!myPlan Freeware
Version:
1.11
Size:
22.17 MB
Category:
Calendars & Planners
License:
Free
Released:
2011-03-29
Developer:
Jv-soft, Owner Karin Vogel
Downloads:
152
Description
!myPlan is a user-friendly but flexible scheduling system, with which you can manage simple schedules for the private use. With !myPlan you can manage any number of schedule items for any number of peoples.
We emphasized to realize an easy and intuitive handling of the Application.
The schedule view can be displayed in different variants (daily, weekly, monthly or yearly).
The different views can be customized in many ways