RetroShare
version 0.6.0.8551 RC2 |

windows

---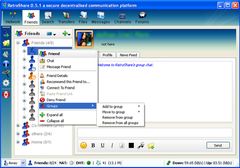 Name:
RetroShare
Version:
0.6.0.8551 RC2
Size:
18.93 MB
Category:
Instant Messaging & Communication
License:
Free
Released:
2015-07-10
Developer:
Retroshare Team
Downloads:
140
Description
RetroShare is a Open Source cross-platform, private and secure decentralised communication platform.
It lets you to securely chat and share files with your friends and family, using a web-of-trust to authenticate peers and OpenSSL to encrypt all communication. RetroShare provides filesharing, chat, messages, forums and channels.