SSuite UltraCam Video Phone
version 2.4.1.1 |

windows

---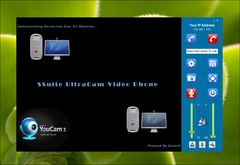 Name:
SSuite UltraCam Video Phone
Version:
2.4.1.1
Size:
5.81 MB
Category:
Instant Messaging & Communication
License:
Free
Released:
2017-03-20
Developer:
Ssuite Office Software
Downloads:
475
Description
SSuite UltraCam Video Phone was designed to be a server-less communicator for use within any LAN or Wi-Fi network. It is also able to create a private and secure peer-to-peer contact which will improve network communications, business productivity, and relationships with friends and colleagues. It also has a file transfer portal to send and receive any file or document while you are communicating in real-time.
The smart, comfortable, and pleasant looking user interface with advanced usability options allows you to join any network in a few mouse clicks. UltraCam Video Phone will allow you to video conference instantaneously from and to all other users of your network while interacting with them on your screen with real-time video streaming at 30fps.
Because this application runs of the DirectX code base, it is extremely fast. So now you will no longer have any codec compatibility or availability problems ever again. DirectX will sort everything out by itself. The higher the DirectX version you have on your system, the better it will run. This means it is optimised and runs best on multi-core processors. Source code is based on Microsofts Amcap DirectX webcam app.
No knowledge of computers is necessary to install and use this software. Thanks to its standardised interface, its setup is immediate and doesn't require any server or hardware configuration. Just install the software in all the computers and the program is ready to use. Please Note - If you need any further assistance, please read the "Read Me" document that came with this application!
Open and read the "Read Me" document directly after installation for first-time startup instructions!. Powered by Microsoft's DirectX platform for real-time video transfer at 30fps.
No Java or DotNet required, Green Energy Software! Saving the planet one bit at a time...
Screenshots