SealCast
version 1.0 |

windows

---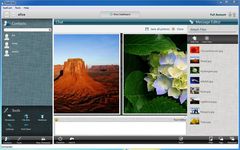 Description
Sealcast simplifies your online collaboration and brings together all of your communication needs under one roof. You can communicate with any number of your friends and contacts using club-like discussion channels or individual chats. Furthermore, you can organize the exchange of any type of multimedia file content within a single discussion, chat or independent storage bin. You can even share your computer resources by granting your friends a remote access to your local folders... All from within a single, intuitive and user-friendly environment with a click of a button.
Streamail - A powerful tool that redefines online communication. Any number of users can participate. Can be focused on a single topic, or as wide as the participants choose. All the rich multimedia attachments, brought in by the users, are set aside and always at hand for easy reference.
WebChat - For those who own a website and want to integrate it with SealCast. Perfect for small businesses. Allows live chat with the inquiring visitors, to turn them into paying customers right on the spot . Actually, there is much more to this...
File Bins - A simple way of exchanging, organizing in folders, storing and editing files by a group of users, that allows them a dynamic access to common resources from various locations, at any time.