Autumn Icons - Small and Large edition
version 1.0 |

windows

---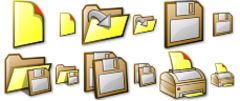 Name:
Autumn Icons - Small and Large edition
Version:
1.0
Size:
5.94 MB
Category:
Icons
License:
Free
Released:
2007-07-12
Developer:
Arcticline Software
Downloads:
466
Description
Basic icon set in Autumn style. A collection of ready stock icons most often required for program design.
Autumn stock icons are perfect for shareware developers and web designers, who need to create a first-class interface for their software, web application or game, but value their time and don't want to spend weeks and even months on waiting for the designer to finish his work. The eye-candy factor is way up in Autumn Icons and if you have ever had a yearning to make your competitors jealous, these are the right icons to make your software stand out of the crowd. Autumn Icons are available at http://www.ReadyIcons.com.
Icons are free for any type of use (see license) and available in the following sizes and color formats:
16x16, 256 colors (8bpp);
24x24, 256 colors (8bpp);
32x32, 256 colors (8bpp);
48x48, 256 colors (8bpp);
16x16, XP (32bpp);
24x24, XP (32bpp);
32x32, XP (32bpp);
48x48, XP (32bpp)
and
128x128, XP (32bpp).
In addition to ready-made collections, ArcticLine Software designs custom icons if they are not included into ready collections. You can find more details about custom icon design at the following link: http://www.ReadyIcons.com / design . php .