Wu Hing: The Five Elements
version 1.31 |

windows

---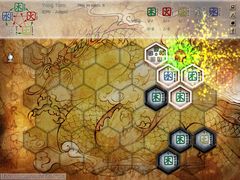 Name:
Wu Hing: The Five Elements
Version:
1.31
Size:
17.84 MB
Category:
Strategy
License:
Free
Released:
2012-02-03
Developer:
Kudos Games
Downloads:
687
Description
Wu Hing is a strategy board game based on the five Chinese elements of wood, fire, earth, metal and water. The game pits two players (yin and yang) against each other, with the objective to create, destroy and transform the elements in play.
Only the most cunning player will win, so plan your moves carefully and come up with a winning strategy to outwit your opponent.
Have you got what it takes to master the elements?
* Challenge your mind with unique and original game play.
* Immerse yourself in the atmospheric music & stunning graphics.
* Choose from 4 different game styles, including a solitaire mode.
* Play against a friend or 4 different CPU difficulty levels.