CompleteFTP Free
version 9.1.0 |

windows

---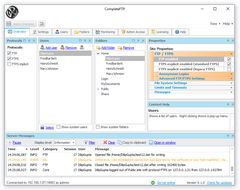 Name:
CompleteFTP Free
Version:
9.1.0
Size:
21.44 MB
Category:
Ftp Clients
License:
Free
Released:
2016-08-26
Developer:
Enterprise Dt
Downloads:
58
Description
Sometimes, you simply need an FTP server that's easy to use and gets files where they're supposed to be, every time. As the entry to the CompleteFTP family of secure FTP products, CompleteFTP Free is exactly that – free forever – with a seamless upgrade path to advanced protocols and functionality when you need it.
Unlike most other free FTP servers, CompleteFTP Free is actively maintained and supported, meaning help is at hand when you need it. CompleteFTP Free is:
- Easy to install, use and administer
- Actively maintained and supported
- Upgradeable in a single click
Filezilla is the most popular free FTP/FTPS server for Windows out there. However it is permanently in beta and has no commercial support options. There is also no upgrade path available to users when their requirements change.
As the newest member in a family of commercially available products, CompleteFTP Free is actively maintained, with one-click upgrade options to unlock more advanced file transfer protocols and functionality as required. This makes CompleteFTP Free a compelling option in comparison to the other freeware alternatives.
Screenshots