CAS Modbus Explorer
version v1.00bA |

windows

---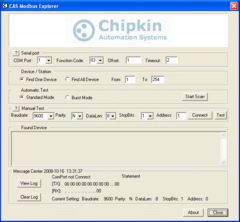 Name:
CAS Modbus Explorer
Version:
v1.00bA
Size:
155.17 KB
Category:
Network Monitoring & Info
License:
Free
Released:
2009-08-11
Developer:
Chipkin Automation Systems Inc
Downloads:
647
Description
CAS Modbus Explorer is a utility to discover Modbus devices on a Modus RTU network. If you dont know the connection settings or the device address then this is the utility for you. It tries all combinations of Baud, Parity, Data Bits and Stop Bits & all Addresses in the range you specify.