Colasoft MAC Scanner
version 1.1 |

windows

---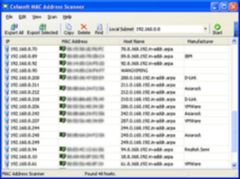 Name:
Colasoft MAC Scanner
Version:
1.1
Size:
3.39 MB
Category:
Network Monitoring & Info
License:
Free
Released:
2006-11-05
Developer:
Colasoft Co., Ltd.
Downloads:
658
Description
Colasoft MAC Scanner is a scan tool using to scan IP address and MAC address. It can automatically detect all subnets according to the IP addresses configured on multiple NICs of a machine and scan the MAC addresses and IP addresses of defined subnets as your need. Users can custom own scan process by specifying the subsequent threads.