ProtectFile
version 1.7 |

windows

---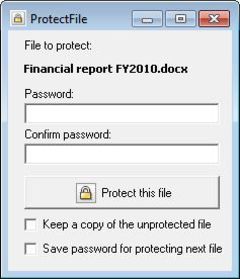 Name:
ProtectFile
Version:
1.7
Size:
818.84 KB
Category:
Access Control
License:
Free
Released:
2011-05-12
Developer:
Protectfileapps
Downloads:
485
Description
With ProtectFile, you can encrypt files of any type, including Microsoft Word, Excel and PowerPoint documents. Even your photo and Video documents can be protected with a click of the mouse. It protects information against being viewed or modified without your authorization. The reliable and secure ProtectFile algorithm (AES-256) is used for data encryption and passwords are saved within the encrypted files. This makes the encryption very secure and easy to use.
The program has Windows Explorer Shell integration. This means that you can password protect your files and folders by just rightclicking the file or folder anywhere in Windows Explorer and selecting the ProtectFile option.
The icon of the protected file or folder automatically changes into a lock so you can see which files or folders are protected by ProtectFile. Doubleclicking the Protected file opens a dialog where you can enter the password you protected the file with. If the password is OK, the file or folder returns to its original state, just like before it was protected with ProtectFile
The program has a convenient and intuitive interface and so even the most inexperienced users in the sphere of information protection can protect their data quite easily.
ProtectFile is also veryuseful for working on a variety of storage devices. You could install the program on a floppy disk or a flash drive and use it on any Windows PC to which the drive is connected. ProtectFile is optimized for working on removable media.
ProtectFile is your Personal Encryption Software for Windows!