USB Protection Tool
version 1.0.0.0 |

windows

---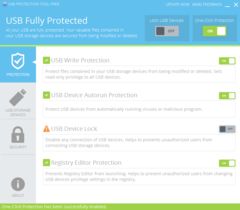 Name:
USB Protection Tool
Version:
1.0.0.0
Size:
8.17 MB
Category:
Access Control
License:
Free
Released:
2015-08-06
Developer:
Cholaware
Downloads:
604
Description
USB Protection Tool is a powerful and easy-to-use software which secures all your USB with it's features. It consists of multiple powerful feature to protect the USB in all forms. Details about it's protection features are explained below.
USB Write Protection
This protection protects files contained in your USB Storage Devices from being modified or deleted. This protections provides the read-only privilege to all USB devices.
USB Device Autorun Protection
This protection secures and protects USB from automatically running viruses or malicious programs. This protection defends from any scripts or malicious program from running just by inserting the USB.
USB Device Lock Protection
This protection will disable any connection of USB devices. This helps to prevent unauthorized users from connecting USB devices.
Registry Editor Protection
This protection defends from unauthorized users from launching Registry Editor. This prevents any modification or changes to be happened in the USB privilege settings in the registry.
Apart from securing USB, USB Protection Tool also have some other powerful feature which will make the USB protections even more powerful.Details about it's other features are explained below.
One-Click Protection
With just One-Click, USB Protection Tool will completely secure your USB from anonymous access. This feature enables all the protection features in just One-Click.
USB Storage Device Manager
This feature give the options to the users to manage all their storage devices by ejecting or reloading it. Reloading it enables the devices to unplug and plug systematically.
Password Protection
Users can set a master password to protect the USB Protection Tool itself. This will protect against unauthorized users from using USB Protection Tool.
Bottom line, USB Protection Tool is the most powerful USB protector in the internet right now.