Lock Folder & Files
version 1.5 |

windows

---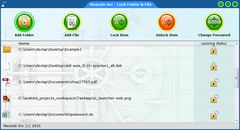 Name:
Lock Folder & Files
Version:
1.5
Size:
3.14 MB
Category:
Privacy Software
License:
Free
Released:
2016-01-14
Developer:
Nexsols Inc.
Downloads:
754
Description
1.Ability to completely hide a particular folder or file.
2.You can add any number of files and folder to be locked.
3.File and sub folders in a locked folder can't be accessed and not even from a shortcut.
4.Folders that are locked cannot be deleted from the system without being first unlocked.Gives you the ability to provide a password of your own.
5.UnInstallation of the whole software cannot be done without providing the password.
6.Lock Folders & Files is extremely easy to use.
7.Allows you to change the protection password.Your locked files are folders are protected even if the system is restarted.
8.Once locked, Links Or the recent document list or any other indirect way to access the locked file or folder does not work.
Screenshots