ExamDiff
version 1.6k |

windows

---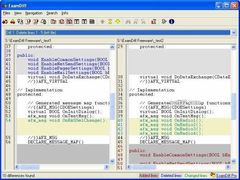 Name:
ExamDiff
Version:
1.6k
Size:
477.6 KB
Category:
File Managers
License:
Free
Released:
2011-02-10
Developer:
Prestosoft
Downloads:
80
Description
ExamDiff is a Freeware Windows tool for visual file comparison.
Features include:
- Toggles between the first and second files.
- Automatically detects file changes and prompts the user to re-compare files.
- One push re-compare function which attempts to leave the viewer's
focus in the same place as before the re-compare.
- Drag and drop support for dropping one or two files into the
program's window (e.g. from Windows Explorer).
- Easy editing of the first and second files. ExamDiff will spawn any
editor (configurable by the user) with the first and/or second file.
- Saves the standard UNIX DIFF file.
- Easy navigation through the differences via 'Next Difference'/
'Current Difference'/ 'Previous Difference' buttons and hot keys or
via a list box of all the differences.
- Simple 'Search' option to search for strings in the comparison panes.
- Customizable colors, font, tab size, and comparison settings.
- Fully customizable file extension filter.
- Tooltips that include file properties, difference number, etc.
- Adjustable pane splitter with smooth synchronized scrolling. Allows
easy toggling between horizontal and vertical splitter orientation as
well as splitter centering and panes hiding.
- Command line interface.
Screenshots