MV2Player
version 0.7.0 |

windows

---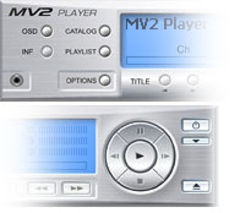 Name:
MV2Player
Version:
0.7.0
Size:
1.22 MB
Category:
Video Players
License:
Free
Released:
2012-05-21
Developer:
Mv2
Downloads:
399
Description
MV2Player is an easy-to-use application that will provide users with the ability to play their video files.
This software is able to automatically detect and load certain subtitles for your video files.
Here are some key features of "MV2Player":
· Easy to use for begginers, and lot of settings for advanced users
· Fast keyboard control
· Unique comix and history feature
· MicroDVD scripts (MVD) compatible, External subtitles and audio tracks
· Adjustable offset of audio tracks (include CBR internal audio in avi)
· Autodetect language of subtitles, Color controls, OSD menu
· Comics creator, Text to speech support (for subtitles), Drag & drop support,
· Pan & scan / zoom / aspect ratio, Loop & repeat modes, Change play speed
· Dual subtitles, Adjustable offset of subtitles, Chapters & bookmarks support
· Playlist and catalog, Shutdown, Customizable shortcuts
MV2Player has a rich settings menu that enables you to bring your personal touch over the way the software works. It also comes with theme support that now is available in almost every multimedia player out there.
A great feature is the built-in 'Catalog' that will enable you to manage your multimedia collection and easily sort your files. There is a 'Scan' function that helps you automatically discover and add to the list movies, music and pictures, but also playlists and subtitles.
Expect some problems when running MV2Player on newer operating systems though. For example, during our tests on a machine running Windows 7 the Aero system theme was disabled and the color scheme changed to Basic every time we opened a video file. Fortunately, the original settings were restored as soon as the playback ended.
Highly configurable and easy to use, this application can handle an impressive variety of multimedia formats. All in all, MV2Player may be a pretty good solution for older computers running previous Windows iterations.