XviD
version 2.2.0.7175 |

windows

---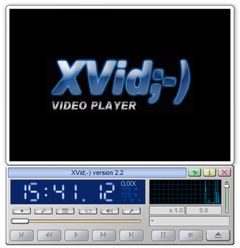 Name:
XviD
Version:
2.2.0.7175
Size:
807.38 KB
Category:
Video Players
License:
Free
Released:
2012-06-28
Developer:
Piotr Zagawa
Downloads:
561
Description
XVid;-) is a video player. It is designed for watching movies on PC computer, saved in diffrent formats of Windows system, e.g. avi, mpeg, asf, etc..., and especially for playing movies, compressed with DivX codecs (MPEG-4 compression).
Basic program features:
- legible and simple user interface.
- displaying movie in window and fullscreen, zooming video window.
- recently opened movies list with possibility of adding and deleting items. Adding movie files by specified directory
auto-playing movies by playlist.
- auto-collecting information about video files to playlist
- auto-loading subtitle text files in TMP and MicroDVD formats, included in video file, or additional directory replaceable skins
showing transparent and framed subtitles.
- auto-breaking long lines of subtitles text, centering text lines, time shifting for subtitles.
- controlling program through command line
- controlling through keyboard
- controlling through external controller (joystick, gamepad, etc...).
- controlling through external program
and so others.
Screenshots