Ebase Xi Community Edition
version 4.3 |

windows

---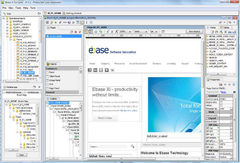 Name:
Ebase Xi Community Edition
Version:
4.3
Size:
182.08 MB
Category:
Other
License:
Free
Released:
2012-02-13
Developer:
Ebase Technology Ltd
Downloads:
827
Description
Ebase Xi is a new generation IDE that combines user interface creation, data integration, and business process management into a single-technology RAD platform.
The platform offers unprecedented speed, agility and power, including a jQuery library and Rich Client framework for developing mobile web apps.
Extensive support for XML and web services, databases. Massive productivity gains.
Replaces multiple development tools with one simple IDE.
Xi version 4.3 sets a new benchmark for the rapid development of business applications, and what's more, it's completely free!
Visit www.ebasetech.com for full details.
Screenshots