MDaemon FREE Mail Server for Windows
version 11.0.3 |

windows

---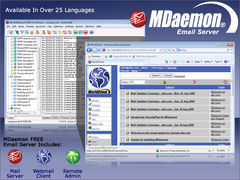 Name:
MDaemon FREE Mail Server for Windows
Version:
11.0.3
Size:
54.35 MB
Category:
Servers & Tools
License:
Free
Released:
2011-02-10
Developer:
Alt-n Technologies, Ltd.
Downloads:
1306
Description
MDaemon FREE mail server software is a 5-user license version of the award-winning MDaemon Email Server for Windows. MDaemon FREE is perfect for home and SOHO users wanting a reliable mail server that will grow with their business.
MDaemon FREE is available in multiple languages and supports SMTP and POP3 protocols for Windows Vista/XP/2008/2003/2000 systems.
The proven performance and user-friendly design of MDaemon FREE make it easy to use and can be installed in under 10 minutes. Access email anywhere there is an Internet connection via the powerful webmail client that supports over 25 languages, offering the ultimate freedom in mobile access.
MDaemon FREE includes:
* 5-User License
* Solid Security Features
* WorldClient Webmail Client
* Remote Administration
* Powerful Content Filter
MULTI-LANGUAGE SUPPORT:
MDaemon FREE is available in the following languages for the server and its webmail client: English, German, French, Spanish, Russian, Japanese, Portuguese, Italian, and Chinese.
WebAdmin, remote administration tool included with MDaemon: English, German, French, Spanish, Russian, Japanese, Portuguese, Italian, Chinese, Dutch, Swedish