Xlogan
version 2.0.2 |

windows

---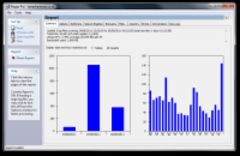 Name:
Xlogan
Version:
2.0.2
Size:
2.72 MB
Category:
Servers & Tools
License:
Free
Released:
2011-02-10
Developer:
Axe Software
Downloads:
663
Description
Xlogan is a tool for generating statistics from your web site log files. These statistics can reveal a lot of useful information about your website, such as which sites are linking to you, what search terms people use to find your site, how often each file is downloaded, what countries your visitors come from, and much more.
Find out how many visitors your website has, and which web browsers they use. Find out how much bandwidth your site is using, and which files use the most. Xlogan's graphs show you how many visitors you get each day and each hour, so you can see when your website is busiest. The Error report shows you if your visitors saw any error messages.
Xlogan Pro shows you conversion rates by entry page, referrer and search keyword, helping you to optimise your site for maximum sales. You can also compare reports so you can measure the effects of any changes you make.
More features:
- Load multiple log files
- Site profiles let you easily manage multiple websites
- Filtering lets you view the information you want
- Built-in FTP browser so you don't have to launch a separate program
- Support for GZ compressed log files
- View detailed information about each visitor
- Built-in IP-to-country database
- View entry and exit pages
- Show referrers - which websites link to yours
- Show search engine queries used to find your website
- View statistics on web browsers and operating systems used
- View information about file requests and bandwidth usage
- Report on error messages seen by website visitors
- Track conversions to find out how your website turns visitors into customers (Pro only)
- Compare reports so you can see how your website performance is changing over time (Pro only)
- Export report to XML so you can use Xlogan's data in other programs (Pro only)