1site (LITE)
version 2016.6.9 |

windows

---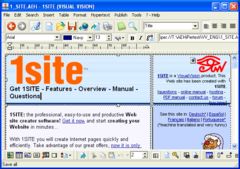 Name:
1site (LITE)
Version:
2016.6.9
Size:
2.22 MB
Category:
Web Design Tools
License:
Free
Released:
2012-09-09
Developer:
Visual Vision
Downloads:
857
Description
Leading professional and easy to use integrated Web editor and Web publishing tool. You can make fancy Websites and Internet pages quickly, as it includes everything you need to create and maintain business or personal Web site.
With 1SITE you will create Internet pages quickly and efficiently. It is:
- fast and easy to use;
- fully visual, no coding, no HTML;
- can manage a whole site as a single file (you don?t need to continuously load and save pages, as you act on a whole document, even for searches and revisions);
- simultaneous browsing and editing (you can browse links with a double click);
- no limits: you can build infinite websites
- visual linking, with active previews, even when you show separate windows and/or insert complex frame-to-frame links (you don't need to remember file names);
- internal Internet publishing (FTP), with automatic detection of modified pages; compatible with any browser!
- hundreds of functions: frames with drag &