Spider-Man 2 Mac
version 1.1 |

mac

---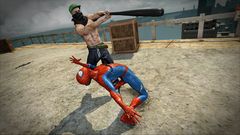 Name:
Spider-Man 2
Version:
1.1
Size:
8.84 MB
Category:
Adventure & RPG
License:
Free
Released:
2014-09-30
Developer:
Aspyr Media
Downloads:
5967
Description
The 1.1 patch fixes graphics issues and adds support for Macs with Intel processors.
Spiderman is a third-person action/adventure, based on the Marvel comic series. Players play as Spiderman, high school student Peter Parker who is bitten by a radioactive spider and granted tremendous powers. Spiderman uses his powers to fight off evil and make the world a safer place.
In highly detailed environments, inspired by the upcoming feature film, Spiderman must use his Spider-Sense to side-step danger, his Spider-Agility and quick wits to evade pursuit and his Spider-Strength to overcome the Green Goblin and other arch enemies, in his pursuit to rid the world of evil.
Spidey kicks butt as he shimmies up the side of buildings, shoots webs, swings across the night sky, taking on a legion of sinister villains in this brilliant 3-D world. Scorpion, Venom, and Rhino are just some of the notorious bosses you'll encounter in your travels. The city is depending on your every move.
What's new in this version:
Fixes some graphics issues and adds native support for Intel Mac computers
Screenshots