HDRtist Mac
version 1.2 |

mac

---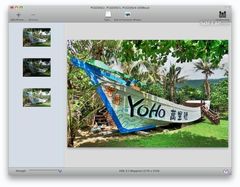 Name:
HDRtist
Version:
1.2
Size:
6.65 MB
Category:
Graphics Tools
License:
Free
Released:
2011-08-24
Developer:
Ohanaware
Downloads:
515
Description
HDRtist is easy to use HDR software, that creates and tone maps HDR photos in a single step. An intuitive design makes it simple to choose from our 4 different tone mapping techniques. Even if you're not into HDR photography, HDRtist is a great tool to have for dramatizing dull photos, livening dark photos and boosting sunsets! We've included some HDR tutorials to help you get started with the amazing world of HDR photography.
:: What's New In Version 1.2 ::
Fixed: Graphical glitch that could cause image corruption on large images.
Fixed: Glitch that could occur when removing some images from the source lit.
New: Dropping of a folder is now supported.
New: Customizable Toolbar.
New: Color Profile preservation (limited to RGB variations only).
New: Info Window, shows image details.
New: Displays the image name in the source list.
Mod: Improved the meta data preservation system.
Screenshots