DomainScan Pro
version 7.11 |

windows

---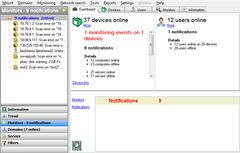 Name:
DomainScan Pro
Version:
7.11
Size:
5.82 MB
Category:
Network Monitoring & Info
License:
Free
Released:
2012-09-03
Developer:
Gh Software (ghit Aps)
Downloads:
584
Description
DomainScan Server Monitoring is the perfect network monitoring solution for System administrators. It's designed for small businesses, schools and universities.
It's easy to use, and will display a lot useful information that will help you, and it can assist you to make informed decisions.
DomainScan Server Monitoring can monitor all network devices, collect audit information, search devices and detect online users.
The built-in monitoring system can be used to create user-defined monitors that can be used to monitor specific services, such as monitoring that the web-server is running. Furthermore, DomainScan Server Monitoring can also react in case of errors.
Data analysis capabilities are also integrated in DomainScan Server Monitoring, so that one can predict future trends and extract data reports on-the-fly.
DomainScan Server Monitoring does not require any software to be installed on monitored devices, as DomainScan Server Monitoring uses industri standard interfaces, such as SNMP and WMI, to communicate with devices.