Netcut
version 2.1.4 |

windows

---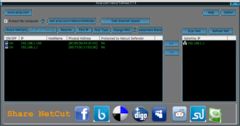 Name:
Netcut
Version:
2.1.4
Size:
1.75 MB
Category:
Network Monitoring & Info
License:
Free
Released:
2016-09-14
Developer:
Arcai
Downloads:
908
Description
Discover who is on your network instantly. (IP/Device name/MAC address). Works in office LAN, school LAN or even iphone/Xbox/Wii/PS3andriod/andriod network Find/export all MAC address in your network in seconds Turn off & on network on any device , computer/phone/xbox/wii/Router/switcher in your LAN. Protect user from ARP SPOOF attacks Change MAC address on any adapter. Clone MAC address from any device of your network to your own adapter.
The most powerful netcut ever has been released. Ensure 100% working under WI-FI. and ensure CUT OFF testing in all network environment. RISK CONTROL, detect network security, IP/MAC address mapping, SmartPhone/Iphone/Andrio/WIndows surface brand in your network, including their MAC address.
Screenshots