WhatsUp Gold Starter Kit
version 14 |

windows

---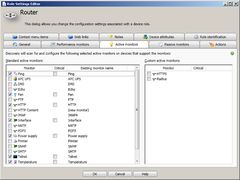 Name:
WhatsUp Gold Starter Kit
Version:
14
Size:
254.75 MB
Category:
Network Monitoring & Info
License:
Free
Released:
2009-08-14
Developer:
Ipswitch, Inc.
Downloads:
1423
Description
With the WUG Starter Kit, you are given access to a free 12 month license to WhatsUp Gold Standard edition with the ability to monitor up to 3 devices. The WUG Starter Kit delivers a high performance, predictive network monitoring tool that is highly flexible, automated and comprehensive. Expanding on that, with the recent release of v14.0, you benefit from innovative new features such as the Alert Center, an enhanced discovery engine that is up to 3 times faster and more accurate, and new critical monitors with intra-device dependency.