GlassWire
version 1.2.100 |

windows

---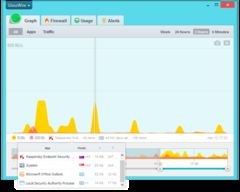 Name:
GlassWire
Version:
1.2.100
Size:
30.65 MB
Category:
Privacy Software
License:
Free
Released:
2017-04-05
Developer:
Glasswire Network Monitor
Downloads:
850
Description
GlassWire helps protect your privacy & security by monitoring your network activity for suspicious activity. Once suspicious activity is detected you can block the potential threat with GlassWire's built in firewall management tool.
GlassWire visualizes all your network activity on an easy to use graph. Click anywhere on the graph to see what applications and hosts are accessing the network from your computer. Our software automatically resolves host names so it's easy to see who or what your computer is communicating with over the Internet.
Go to the Firewall tab to see what applications have accessed the Internet and block any that are suspicious, violating your privacy, or wasting your bandwidth. GlassWire uses Windows built in firewall so no instability is introduced into your system by third party firewall drivers.
The idle time monitor shows what network activity occurred while you were away from your computer. Have you ever wondered what your computer does at night when you're asleep? You can see what was going on with GlassWire by checking out its graph. The dark part of the graph with the clock icon is the time period when
your computer was logged out and idle.
Screenshots