Auto Shutdown Manager
version 4.9.7.11 |

windows

---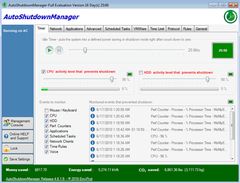 Name:
Auto Shutdown Manager
Version:
4.9.7.11
Size:
15.73 MB
Category:
System Tools
License:
Free
Released:
2012-04-06
Developer:
Enviprot
Downloads:
521
Description
Auto Shutdown Manager™ is a Windows Service based, centrally managed and network enabled PC Power Management solution for enterprises, public sectors, educational institutions, NPOs and private users which helps to save money and to increase security. Auto Shutdown Manager allows an intelligent startup of needed- and shutdown of unused- computers. However, unlike other solutions, at no time will it interrupt a working user or a productive system.
The user-centric design takes user's actions into account. For example, the screen will not blank during a presentation and open documents will be saved before shutdown.
Take full control of the shutdown, wake-up and sleep modes of your PCs and Servers - on demand, by time, for patch management or by policies.
Automatically and remotely start up, shut down, restart, log off, standby or hibernate all your PCs and servers - WoL over different IP segments and even over the Internet.
Auto Shutdown Manager supports client deployment and Central Management via it's build in Management Console.
The Management Console allows configuration, updates, management and deployment of settings and policies from one central place to the all network clients or specified client groups.
It also supports daily administration tasks such as remote wakeup, shutdown, logoff users and restart single PCs or selected PC groups. Assign PCs automatically to the corresponding Power Management Policies based on PC name filters or Active Directory Attributes.
Remote shutdown and remote wake-up are obviously very useful functions that can make the administrator's and also the end user's life easier. Auto Shutdown Manager offers both functionalities – remote shutdown as well as remote wake-up of single PCs and whole PC groups.