Varal WAMP
version 2.0.0 |

windows

---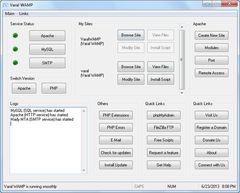 Name:
Varal WAMP
Version:
2.0.0
Size:
31.96 MB
Category:
Servers & Tools
License:
Free
Released:
2013-07-08
Developer:
Varal
Downloads:
622
Description
Varal WAMP allows you to create and host websites on your PC with great ease. Varal WAMP has been designed in such a way to cater the needs of web designer as well as advanced web programmers. The current version of Varal WAMP is build with latest configuration. It includes Apache 2.4.2, PHP 5.4.15, MySQL 5.6.10, xDebug 2.2.1, FileZilla 3.7.1, Wordpress 3.5.1 and lots of other add ons. The whole Varal WAMP is GUI based, which means you can focus on your work rather configuring server. One of its special feature allows you to create custom memorable URL's of your created sites.
Features:
Allow you to create multiple sites
Custom web URL's of your site. e.g. http://mysite/
One click install of popular scripts like WordPress, Jommla, phpBB,…
phpMyAdmin, FileZilla, SMTP Server, xDebug and lots of add on
Allow to switch Apache, PHP versions as per your need
Allow you to choose whether to allow remote access of your site or not.
Allows to enable/disable apache modules/php extenstions of your choice
Screenshots