RSS Publisher
version 1.95 |

windows

---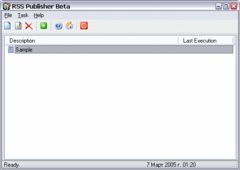 Name:
RSS Publisher
Version:
1.95
Size:
1.01 MB
Category:
Servers & Tools
License:
Free
Released:
2009-08-22
Developer:
Extralabs Software
Downloads:
552
Description
RSS Publisher is a program for RSS publishers. Using this program one can not only upload any number of new RSS feeds to web servers, but also save and manage existing RSS feeds. The program has a number of unique features, allowing to automate the process of uploading and archiving of RSS feeds.
Who is this program for?
RSS Publisher is designed for those who use RSS feeds on their sites and need to renew them on a regular basis.
What is this program for?
People who use the RSS feeds need to renew them on a regular basis, but when the new RSS is uploaded to the server the old one is usually overwritten and the previous data is lost. The RSS Publisher solves this problem - it not only allows to automate the process of uploading and renewing of the RSS feeds, but also allows to archive the older feeds, creating a database of the RSS feeds and accompanied files.
How does it work?
After one has created the new task in RSS Publisher and specified all necessary parameters (web server address, login, password and the location of the RSS files) a usually complicated task of updating and archiving the RSS feeds will be carried out by a push of a single button.
A unique feature of the RSS Publisher is the "Smart Backup": if specified, the RSS Publisher will compare the existing RSS file which is located on the web server and the local RSS file and if the files are different (the parameters are defined by the user) the program will backup the remote file locally and only after that the new file will be uploaded to the web server.
Main features:
Multiple RSS version support
Convenient and intuitive interface
Unlimited number of tasks
Feed Image Support
"Smart Backup" function
FTP support
Logging all progress in a log file
Low system requirements
And more important... IT's FREE!