Free Movie Player
version 1.0 |

windows

---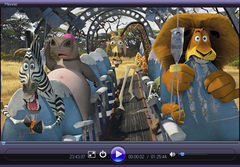 Name:
Free Movie Player
Version:
1.0
Size:
524.46 KB
Category:
Video Players
License:
Free
Released:
2008-12-03
Developer:
Moviesoft Llc
Downloads:
526
Description
FreeMoviePlayer is a DirectShow compatible software with quality decoding of the MPEG-1, MPEG-2, MPEG-4/ASP, H.264/AVC. It is optimized for high quality decoding of movies. FreeMoviePlayer is a best choice for everybody who want to get high quality and stable work at the non-fast computers.
The DXVA is supported by FreeMoviePlayer. This decoder reduces the process usage twice!
This software has many useful features. It can play movies from CD, DVD, from the flash drives as well. FreeMoviePlayer has the small size and the user friendly interface. It is compatible with Windows XP and Windows Vista. The x64 Windows Version are supported too.
Software Features
* Configurable Aspect Ratio
* Full Screen Mode
* Audio MPEG-1 Layer (I, II, III)
* YUV Overlay is Supported
* Most video formats are supported.
Supported Video Formats
* MPEG-1 System Stream including VideoCD-compatible
* MPEG-1 Video Only
* MPEG-2 Program Stream compatible DVD-compatible (VOB) and SuperVCD-compatible (SVCD)
* MPEG-2 Video Only
* MPEG-2 Transport Stream
* MPEG-2 HDTV (including ATSC)
* PIM2 (AVI including MPEG-2 format)
* All 18 ATSC formats
* MPEG-4 SP-ASP (ISO/IEC 14496-2)
Supported Audo Formats
* MPEG-1 Audio Layer (I, II, III) (ISO/IEC 11172-3)
* MPEG-2 Audio, including MPEG-2.5
* LPCM Linear PCM (audio standard for DVD)
* AAC*
System Requirements
* CPU with MMX tecnology (Intel Pentium III, Celeron, AMD Athlon, Opteron etc.)
* 128 MB RAM
* Any VGA card
* 15 MB HDD